In a complimentary webinar on April 20th 2011 at 3:00pm EST, Kevin Connell business coach, author, and founder of AccuScreen.com. Is inviting coaching extroadianre Kathy Eppley to help show you how to gain the clarity, confidence and certainty to help change your mindset.
TAMPA, FL — In an upcoming live webinar, speaker and coach Kathy Eppley will help you delivers results! She is a master teacher who enables her clients and audiences to quickly breakthrough limits and achieve far beyond what they ever imagined.
Some people may ask why is AccuScreen offering a webinar like this one? Kevin Connell explains, "Well, over the past 3 years, when the financial bubble burst, the economy receded, layoffs began…so did many people's mindsets, where before people had certainty, many now have uncertainty about their future, and things have hit people financially, a spouse may have lost a job, others got behind on a mortgage payments, stress and pressure has been present like never before, but there is hope."
"Not surprisingly, many people's mindsets are wounded, their self esteem is low where it was once high, think of this presentation and discussion as one important step to help people's mindset, get their heads uncluttered with all of the negative news that the media pounds us with, and this webinar is designed to help a small business owner as well as someone who may be a mid level manager at a corporation, whether you are an entrepreneur, an HR manger, an employee, etc. this is FOR YOU!"
Discover the Secrets of Astounding Results That Will Enable You to …
• Shatter the Glass Ceiling of Limitation in Your Mind Including All the Doubt, Fear, Excuses and Self Sabotage Holding You Back!
• Set and Achieve Big Goals Regardless of Circumstances & Market Conditions!
• Build Powerful New Beliefs & Gain the Clarity, Confidence & Certainty to Reach Amazing New Levels of Productivity!
• Re-Energize, Re-Ignite & Re-Vitalize Your Business
Bob Proctor, legendary transformational expert, author, speaker and featured teacher in the hit movie and bestselling book, THE SECRET said it best when he summed up the impact and results Kathy Eppley delivers to her audiences and clients… "Circumstances and conditions will melt away; put this program to work, it's like taking money to the bank!"
To Register Click Here . The webinar hosts will provide free advice and challenge the audiences to think bigger than they ever have before, to engage their passion and to play life full-out.

Kevin G. Connell is a renowned professional background screening expert; he is recognized for his expertise on employment background screening, criminal record checks, workplace fraud, embezzlement, employee theft, resume fraud and negligent hiring in the workplace. He is widely quoted and has been featured on television, including ABC-TV 'Money Matters,' the Fox News Channel and has been interviewed on more than 126 live talk radio programs.

Kathy Eppley is a law of attraction expert business transformation coach and dynamic speaker who specializes in helping entrepreneurs, solo-professionals and real estate professionals break through barriers to high six figure success.
Her passion is helping business owners and individuals raise the bar and stretch to attract the money and success they really want and deserve, and have the time and energy to live with passion, fully engaging in all aspects of their lives.
Kathy had a former career as an English Teacher and also spent over twenty years in Residential Real Estate Sales & Marketing as an Agent and Broker before founding Astound Yourself! Coaching/Consulting in 2011. Kathy resides in Texas with her two dogs, Patch and Dallas, and two cats, Sasha and Sammy.
Government Shutdown Looms; DC Court Disruptions Likely
The continuing budget standoff in the government is about to come to a head unless a compromise can be reached before midnight on Friday, April 8th. Any government shutdown will likely cause disruptions in DC courts. In the event of a government shutdown, County House Research will continue daily trips to DC-area courthouses to check on court opening status. We will keep you apprised of developments as information becomes available and we apologize for any inconvenience. If you know you need a background screen and your in the DC area please try and get them in before Friday.
If you have any questions, please contact us at 800-689-2228. Thanks.
Background screening your applicants is a practice to ensure that you are hiring the right applicant. But are you using Google to screen? Join us on February 23rd at 2:00pm for a complimentary webinar on how to screen your applicants the right way. Click here for more information.

Many employers that are required by law to perform background screening on their employees employ either an in-house screening team or, in most cases, an outside screening company. Although partnering with a reputable outside screening service to handle their background check requirements is standard practice for many employers, still others, large and small, wonder if it's a good idea.
Pre-employment screening can be expensive. For this reason, smaller employers wonder if they should handle their own background screening. For the most part, simple reference checks are easily handled by an organization's HR department. However, more extensive screening may be best handled by a professional. Just as an employer won't generally handle their own drug screening needs, they probably shouldn't handle their own criminal records screening either.
There are several reasons why it's a good idea to hire an outside screening company, not the least of which is the fact that a reputable screening service will be far more aware of the laws that govern pre-employment screening than the average employer.
So, what should employers look for in a screening partner?
• First, a screening agency should be reputable. Employers can check with the Better Business Bureau and ask for references from screening companies they are considering. It's also a good idea to check with business associates and other reliable sources for recommendations.
• Second, a screening service should be experienced. Inexperienced screening services may include information that unfairly influences an employer's decision or may fail to include pertinent information that an employer needs to know. Partnering with an experienced agency is a great way to ensure that information is complete.
• Third, a screening company should be thorough. A reputable agency assures an employer that they see the process through from start to finish. They not only guarantee that they comply with all state and federal laws but that they handle the administrative work involved in the process such as getting applicant permission, providing notices, and preparing reports.
• Fourth, a screening agency should provide information about their services. When considering any screening service, an employer should receive information about the company, the services it provides, how it complies with the legal aspects of the process, how it handles the administrative aspects of the process, and what guarantees it provides to the employer.
With workplace violence and the legal liabilities such incidents generate on the rise, employers can't be too careful in making sure they make the best hiring decisions possible. Partnering with a reputable employment screening service can take a lot of the worry out of complying with state and federal laws, properly administering the process, and accessing a proper and thorough report. Even a small oversight in an employer's do-it-yourself attempt at a criminal background check can leave that employer open to more legal liability than bargained for. In the long run, it may be wise to hire a reputable employment screening agency to reduce the risk of hiring the wrong person.
In a November 17th Webinar, AccuScreen.com's CEO will reveal " The 7 Commandments of using Facebook, YouTube and Twitter as part of the screening and hiring process."
TAMPA, FL — The rapid rise of online social media has drastically and permanently altered the world of employment screening, and not always to the benefit of employers.
That's the message that AccuScreen.com, an industry pioneer in employment pre-screening services, will emphasize in an upcoming webinar on the topic of online employment screening. The webinar, scheduled for 2 to 3 p.m. EST on Nov. 17, will examine potential legal issues and other concerns related to using sites such as Facebook, Twitter and YouTube as part of the employment screening process.
"More and more companies are routinely combing the Internet for information on job applicants, assuming that everything they find is fair game for consideration in the hiring process. What they often don't realize is that the information they're gathering may be not only completely inaccurate but also legally risky in terms of online employment screening. Our webinar is intended to help employers understand that even accurate information found online cannot always be legally used as a consideration in employment decisions," said Kevin Connell, CEO and founder of AccuScreen.com (http://www.accuscreen.com/).
The webinar will examine several specific cases in which information posted online reflected poorly on the applicant, the applicant's employer or both. Connell, who will present the webinar, noted that laws regarding privacy, off-work conduct and discrimination vary from state to state and are subject to change as legislatures and the legal field as a whole scramble to keep up with the challenges posed by social media technology.
"As a major provider of background check services for pre-employment screening as well as other types of screening, we at AccuScreen.com must stay on top of these issues and legal trends, keeping in mind that the situation can change without notice depending on the terms-of-use policies of sites such as Facebook and Twitter," Connell said. "We also want employers to realize that even if they're outsourcing their screening to a company that specializes in background check services, not all such companies are created equal. Anyone can offer online employment screening, but not everyone understands the nuances of how to go about it in a legally sound and responsible way."
In addition to looking at specific examples of online content concerns, the webinar will address the issues of identity and authenticity related to online information. In some cases, Connell noted, a company may be faced with the challenge of "unlearning" what it finds out about an applicant if that information falls under legal protections of anti-discrimination laws.
Space is limited for the Nov. 17 webinar, titled "The 7 Commandments of using Facebook, YouTube and Twitter as part of the screening and hiring process." Those interested can reserve a seat at http://www.accuscreen.com/media/webinars/.
According to The USDA Handbook on Workplace Violence Prevention and Response, "a sound prevention plan is the most important and, in the long run, the least costly portion of any agency's workplace violence program." This statement is underscored by the fact that workplace violence costs employers more than $120 billion every year. The National Institute for Occupational Safety and Health (NIOSH) estimates that "nonfatal workplace assaults alone result in more than 876,000 lost workdays and $16 million in lost wages."
A "sound" workplace violence prevention plan should be available to everyone within an organization, including:
• Employees
• Managers and Supervisors
• Agency Heads
• Human Resources Staff
• Employee Assistance Program Counselors
• Unions/Employee Organizations
• Security/Facilities Staff
• Law Enforcement Staff
• Conflict Resolution Offices
Workplace Violence is Everyone's Responsibility
Workplace violence policies have to begin from the top down. Management must designate who is responsible for creating the plan, and they must follow up to ensure that a solid plan is discussed, formatted, and implemented so that everyone within an organization is aware of what to do in regard to the issues that surround workplace violence. First and foremost, workplace violence plans must include a zero-tolerance policy.
The following components should be part of any sound workplace violence prevention policy:
• A policy statement – zero tolerance, in most cases; the policy should address the organization's position on workplace violence, identify the scope of the policy, and state the consequences for incidents of workplace violence.
• Pre-employment screening – a key component in workplace violence prevention, pre-employment screening can weed out potential perpetrators before violence occurs.
• Education and training – all employees should be educated about what workplace violence means and how to deal with incidents should they occur.
• Workplace dispute resolution – helpful in preventing workplace violence, dispute resolution may defuse personal issues before they lead to violence.
• Security – security teams are key to identifying and responding to immediate threats.
• Threat assessment – a team of individuals should be assigned the task of evaluating the vulnerability of the workplace and suggest ways to prevent workplace violence.
• Incident prevention, investigation, and record keeping – workplace violence should be thoroughly documented; even "minor" incidents should be investigated.
Although a sound workplace violence prevention plan may contain some or all of these components, the U.S. Office of Personnel Management's statement that "pre-employment screening is an important part of workplace violence prevention," should be a key factor in deciding what to include in your plan.
I would like to know how other organizations conduct background checks. We use an agency and only check on Felonies for administrative staff. We rely on the applicant to disclose where they may have lived and then we search those counties or states as appropriate.  This process is dependent on the applicant disclosing all places lived which may not always happen. Is there a central database that could be searched? 
First, you state that you are only checking for Felonies. That's a problem because there are many Misdemeanors that you are missing. As a general guideline, the only difference between a Felony and a Misdemeanor, is the amount of drugs, merchandise or money stolen, or what type of weapon was used in the criminal act. Misdemeanors can be violent, such as Simple Assault, Sex Offenses, Weapons Violations, Child Abuse or Domestic Violence. Or Misdemeanors can be classified as non-violent, such as charges of Fraud, Theft, Gambling, Drug Possession, DUI, and Prostitution. Additionally, many defendants are arrested on a Felony charge, but if they have a half-decent public defender or attorney, the Felony can be pleaded down to a Misdemeanor. Again, if you are searching for Felonies only, you are missing out on a lot of important criminal case information.

Secondly, you are relying on the applicant to be truthful as to where he lived or worked in the past, that would be sufficient, if all applicants told the truth, but we know that that is not the case, conservatively 1/3 of all job applications and resumes are falsified. I sense that you already know that, and you would like to verify that the applicant is being truthful on where he lived in the past, so you can search all applicable jurisdictions. My recommendation would be to do a social security number and previous address verification. This SSN screening inquiry serves as a good locator tool and is helpful in pointing out all jurisdictions to search for Criminal records.

Finally, you ask is there a central database that you can search. I would need to know a little bit more about the type of organization that you represent, but I will make the assumption that you are a private employer and you, like most companies, cannot access the central database of the FBI or National Criminal Information Center (NCIC), which are only available to law enforcement, or other industries regulated by the Federal Government, such as banks. The only database that you could search, is what is called a National Criminal File, which is a database complied by private companies into a private database, which is a good search to supplement your current criminal record search, but not as a stand alone search. The database is good when primarily used as a locator tool, similar to the SSN Inquiry, because it may point out to you other jurisdictions that the applicant has been arrested or convicted of a crime in the past. Whether you add this service or not is up to you, but at a bare minimum, you would want to do a Criminal Records check either on a county by county basis, or state by state, or a combination of the two, going back the past 7 years, and searching those jurisdictions that the applicant has lived or worked.

Kevin Connell
CEO of AccuScreen.com

Common resume lies such as misrepresenting dates of employment, management skills, and job titles are increasing across the board
Tampa, Flor. (PRWEB) July 28, 2008 — Resume falsifications are on the rise, including some outrageous resume lies, according to internal company data from AccuScreen, Inc.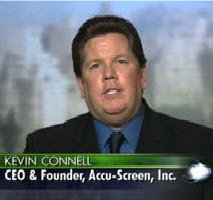 ccu-Screen, a leader in employment background screening, has kept records for 14 years on resume falsification data and has noticed "spikes" correlating with economic downturns and weak labor markets. Moreover, according to company data, 43% of all resumes and job applications contain falsifications. This statistic challenges the findings of many industry studies which place the falsification rate at one-third or less of resumes and job applications.
"We're seeing that the problem is bigger than has been previously reported," says Kevin Connell, chief executive officer and founder of AccuScreen. "We're also seeing an increase across the board on the most common incidences of lying on resumes."
AccuScreen publishes an annual "Outrageous Resume Lies" report and distributes it free of charge for interested employers. Connell was recently interviewed on ABC News Now on this topic and offered examples of the worst of resumes lies. Both the outrageous lies and the banal most often involve these key pieces of information:
-   Dates of employment
-   Job title (inflated rank)
-   Criminal records
-   Salary level
-   Education (e.g. bogus degrees from diploma "mills")
-   Professional license (e.g. MD, RN, CPA, etc.)
-   "Ghost" company (self-owned business)
"One and a half million college students have been recently unleashed into the job market, many of them are still looking for jobs," continues Connell. Connell worries that the recent increase in unemployment figures combined with a weakening economy will prove to be leading indicators of even more resume falsifications. Job seekers eager to stand out and gain an undeserved competitive edge should take heed.
"We want to get the word out to employers and job-seekers," says Connell. "Employers need to be especially vigilant during these periods. Job seekers must know that more employers than ever use rigorous background screening procedures to vet the information contained on their resume."
To view the ABC News Now interview, to download the "Top Seven Resume Lies" report, or to receive the "Outrageous Resume Lies" report, visit AccuScreen at http://www.accuscreen.com/.
About AccuScreen, Inc.
Since 1994, AccuScreen, Inc., has been an industry pioneer, leader and expert in employment background screening, specializing in criminal background checks. Its reports are delivered to companies across the world in 24-72 hours. CEO Kevin G. Connell founded the company with a burning desire that companies hire the right people from the start, resulting in greater cost control and better safety in the workplace. Mr. Connell also serves as a national speaker and expert in negligent hiring, resume fraud, employee theft, and embezzlement.